| | |
| --- | --- |
| Posted on 27 December, 2015 at 20:35 | |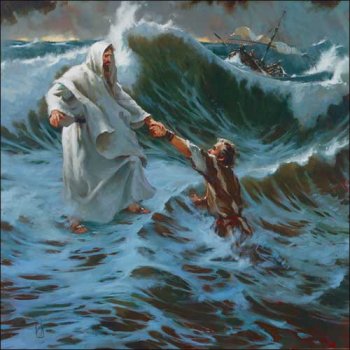 Look at that picture. More importantly, look at this verse...
"And immediately Jesus stretched forth his hand, and caught him, and said unto him, O thou of little faith, wherefore didst thou doubt?" (Matthew 14:31)
Jesus "caught" Peter.
Even though Peter obeyed Jesus when He tells him on a windy and gloomy near break of day command to walk on the water, when his faith begins to wain, Jesus was right there to catch him.
Do you know what that tells me, Christian?
It tells me that at the last sustainable minute of faith a frail believer who might not have the strength to see it through to the end needs to remember that Jesus is there ready to catch him when he begins to sink.
When the Lord makes it clear to us to do Him service, we should always act on it right away. As time goes on, though, and opportunity affords us a chance to reason it out, it almost never fails; the seeds of doubt seem to always find a way to creep in and begin to grow, making this wonderful opportunity of service, at the last possible moment of completion—mind you, become an importunity (imposition). During those times of failure, thank the Lord, He is there to catch us. Remember, Jesus was near enough to Peter to catch him.
I believe that the reason that the Lord gives us a big task—something that we would not ordinarily do stemming from our own volition, is just to see if we are willing to capitulate. Once we act by faith, we need to keep in mind that He is always near enough to bring us through it to safe completion. Remember, He was the one who beckoned to Peter to walk on the water—walk, not sink. And, He is the one who calls us today to service—service, not failure. Let me ask you, if He is the one who has called us to complete a task, do you really think that He wants us to fail?
Calling Simon Peter to come to Jesus on the water was a simple test of his faith. I'm sure, though, as time went on, there were more pressing issues that would surface in Peter's life that required a more intensified sustainable faith. It's the same with us. Simple faith is all that is required in most matters to complete a task, but—and, yes the Lord does catch us many times if/when we fail—as we grow stronger in our faith we find that those simple spiritual milestones have made us stronger. So, don't be surprised, Christian, as you get older in the Lord, when He calls you to a more intensified test of your faith. Along those lines, if you have been saved for a while now, how has the Lord tested your faith, lately? Has He called you to do something that would require you to trust Him more than when you were first saved?
Has He revealed to you what it is, yet...?
If He has... are you willing to do it? Will you obey? Will you get started? Will you trust Him to bring it to pass?
All that's required is your faith.
Pastor Bob
Categories: None
/