Shopping Cart
Your Cart is Empty
There was an error with PayPal
Click here to try again
Thank you for your business!
You should be receiving an order confirmation from Paypal shortly.
Exit Shopping Cart
| | |
| --- | --- |
| Posted on 20 October, 2013 at 23:20 | |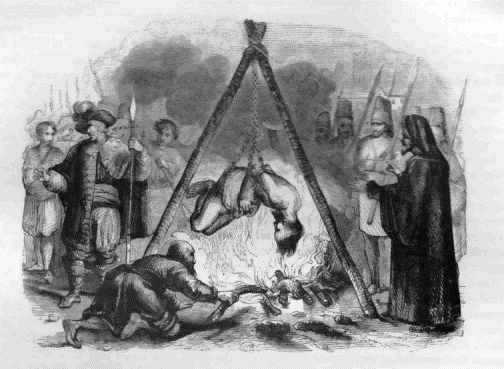 Capturing a live murder on film used to be dubbed a "snuff film," because someone's life is snuffed out right before the viewer's eyes on film.  I don't know if that terminology is used anymore, but, needless to say, it describes what is happening to a tee.

At the outset of this article I want to point out that there is a difference between reading how someone's life is ended who was murdered as a martyr (like Foxe's Book of Martyrs  or the Martyrs Mirror) and quite another thing actually watching it happen right before your eyes.  Let's face it, Jesus said that "persecutions" will come.  (Mark 10:20) Personally, I hope I don't have to go through any physical persecutions before He comes for me, because I don't like pain, any pain.  (That's one reason that I am looking for the Rapture.  Not the main reason, but one reason.)

I decided to write this article because I was exposed, again, today to a video of three Christian martyrs who were beaten to death and then set on fire.  As I watched the clip, the moment I realized what was going on, I fast forwarded it to see if my suspicions were right.  Sadly, they were.  In fact, I had guessed all too well.  After I viewed only a few seconds of it, three questions came to my mind…

First of all, what could be said about these clips that would be considered remedial?  All the viewer can do is sit there and helplessly watch as they view the very life of these martyrs taken from them –snuffed out, if you will.  The bottom line is that the viewer, whose hands are tied because this is already happened (!!!), can't change any of it.

Secondly, would watching these films change the viewer's outcome?  Of course not.  The truth is that sooner or later we will all die.  (Hebrews 9:27)  Don't forget, there is no discharge in that war.  Ecclesiastes 8:8

Last, by viewing these clips, will it wake up the viewer to understand something they hadn't already figured out by reading/studying the Scriptures?  It might shake them up enough to look in the Scriptures for answers, but the Scripture itself isn't being presented, someone's horrific death is.

I asked myself before I wrote this article, "Do I want to live in my cloistered American dream-world lifestyle of little or no pain and suffering."  "After all," I thought, "I don't like those things." "Who does," I continued?  Then, I found the answer to my query was as honest as I have ever been to myself before, "That's why I got saved," I thought.  "I got saved so I won't have to suffer for Eternity with the Damned in Hell.  That's why I got saved.  That's why I got saved.  ...So, I won't have to suffer."  Suffering might come today, but there will be none tomorrow.  Then, this Scripture came to mind...

"And God shall wipe away all tears from their eyes; and there shall be no more death, neither sorrow, nor crying, neither shall there be any more pain: for the former things are passed away."  (Revelation 21:4) 

No death, sorrow or pain awaits me Tomorrow.  That's good enough for me.

Pastor Bob  
Categories: None
/